EGERTON HOUSING ASSOCIATION
The EHA manages and lets the Good Intent Cottages at Stonebridge Green
is "affordable" rented accommodation for people with Egerton connections.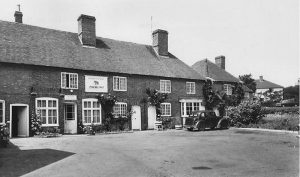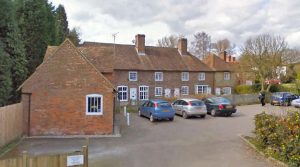 At Stonebridge Green, a particularly charming part of our Parish, there was a public house called 'The Good Intent'. Originally it had been a terrace of six small cottages, but at the beginning of the 19th century had been partly converted to an inn. Much loved by its small but intrepid regulars and run, with a certain eccen-tric discipline, by Maisie Collins. It had on her death, been included in Fremlins' plans for rationalisation and was put on the market. A great deal of concern was felt locally at the rumour that the 'Tent' was likely to be developed as a restaurant. However, a preliminary survey suggested that it could be re-converted to the six dwellings.
At the same time, early in 1974, a group of friends including John Fraser together with David and Rosemary Attlee being concerned at the limited availability of reasonably priced housing to let in the village. met in Egerton to discuss the matter of setting up a Housing Association. By July 1974, the Association had been formed, and by October it was registered as a limited company.
The conversion back to six cottages was financed partly by a loan from the Housing Association to help cover the capital costs for the provision of affordable housing. Later, the original cart store was converted and became the seventh cottage.
The Good Intent was Grade 2 listed on October 10th 1980 and described as: 'An 18th century two storey red brick restored building with hipped tiled roof, seven casement windows and five cambered headed door cases. In mid-19th Century the end bay was restored with a red brick ground floor and first floor of Kentish Ragstone.
For lettings information, contact the Secretary, Sue Palmer on 01233 756686 or email: sjpalmer14@aol.com
Past Tenants comments:-
"Our grateful thanks to the EHA for giving us the chance to start our married life at the Good Intent Cottages, we have loved living there"
"We are so happy living at these cottages with the support of our family who live in the village, but we need a bigger house now with children".
"Thank you to all the committee members for allowing us to live in the cottages especially as I was born here 28 years ago. The cottages are ideal and great as a starter home"
Egerton Housing Association Limited is registered as a company under the Co-operative and Community Benefit Societies Act 2014. The nature of the Association's operations and principal activities is to provide low cost rentable housing in Egerton.