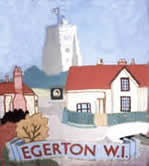 | | | |
| --- | --- | --- |
| | Egerton Women's Institute | |
Motto
"PEACE and GOOD NEIGHBOURHOOD"
We are very pleased to advise that we are making tentative arrangements to return to our monthly meetings – hopefully starting in July. Needless to say we will obviously follow all of the guide lines but, in the hope that we can make this work, the following are details of speakers who have been arranged for the remainder of this year and into 2022.
2021
7th July               George Taylor – Of course I remember the 60's and its music
4th August          David Tadd – The Forensic Investigation of Homicide
1st September    TBA
6th October          Martin Heard – Tulip Mania
3rd November     Annual Meeting
1st December       Christmas Party
2022
5th January            Melanie Gibson-Barton – Murder, Madness & Mayhem –                                                                               The Belgian Royal Family
2nd February         Speaker TBA – The work of the Air Ambulance
2nd March               Mel Rees – My family and other setbacks
There will of course be the usual competitions and exhibitions – more details nearer the time.
We hope that you and all your families are fit and well and that you will be able to join us in July. 
**************************
COME AND JOIN US!
We meet on the first Wednesday in the month at 7.30pm in Egerton Village Hall.
Come as a visitor first and learn more about us
PRESIDENT: Ruth Shrubb – Tel: 01233 756108
VICE-PRESIDENTS: Jenny Oliver & Marianne Mortlock
 HON. SECRETARY: Jackie Parry – O1233 713801
HON. ASSISTANT SECRETARY : Gale King
STALL HOLDERS: Alison Cale, Pat Parr
 Other Members of the Committee: 
Alison Cale, Pat Cowell,  Priscilla Harper, Shirley Missing
 They will all be happy to give you more details.
                                             *******
At the meetings, any business is dealt with first, followed by the presentation/talk, and then refreshments when a trading stall is held. Members are encouraged to bring anything for sale at this stall. 10% is kept for Institute funds, the rest goes to the members.