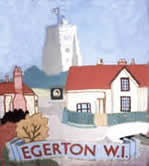 | | | |
| --- | --- | --- |
| | Egerton Women's Institute | |
 Motto
"PEACE and GOOD NEIGHBOURHOOD"

      Activities for 2019
OUT AND ABOUT & AT HOME
Members regularly have outings to the theatre, shopping trips and organised tours of London and other landmarks. They often have fund-raising events, which all can enjoy. This year their ever-popular Plant and Cake sale is schduled for Saturday 11 May 2019 in the Egerton Sports Pavilion.
During the year we attend one-day schools in gardening, crafts and painting.  A group of members meet twice a month to play table tennis.
COME AND JOIN US!
We meet on the first Wednesday in the month at 7.30pm in Egerton Village Hall.
Come as a visitor first and learn more about us.
PRESIDENT: Ruth Shrubb – Tel: 01233 756108
VICE-PRESIDENTS: Jenny Oliver & Liz Wyndham
 HON. SECRETARY: Jackie Parry
HON. ASSISTANT SECRETARY : Marianne Mortlock
STALL HOLDERS: Alison Cale, Pat Parr, Rosemarie Pomeroy
 Other Members of the Committee:  Pat Cowell, Diane Dickens, Priscilla Harper, Shirley Missing, Gale King
Publicity & Communications: Jenny Oliver jennyvoliver@gmail.com
 They will all be happy to give you more details.
Programme for 2019
2 January: The story behind the story of 'Bertha, the Swiss trader's daughter', presented by the author Eleni Tratoris Cotton
Exhibition: Your oldest book
6 February: Mercy Ships, presented by Gehad Homsey
Competition: A photograph of a sunset
6 March: How Chocolate is made, presented by Katie Bewshear. Includes a demo and tasting!
Competition: Homemade fudge
3 April: St Clements Clog Dancers – a demonstration
Competition: A limerick on a dance theme
1 May: National Federation of WI's Resolutions – presentation and discussion. Followed by programme planning for 2020, via round-table discussions.
Exhibition: Your oldest coin
5 June: Flowers & flower-arranging, with demo, presented by Anna Evans
Competition: The best bloom in your garden
3 July: The jewels and wardrobe of the Duchess of Windsor, presented by Janie Ramsay
Competition: A picture in any medium
7 August: A journey in mental health with textiles as a companion, presented by Louise Jessup
Competition: A handmade garment – knitted or sewn
4 September: Eva Braun – victim or contriver? Presented by Melanie Gibson-Barton
Competition: A slice of bread pudding
2 October: The story behind bags and hats from Madagascar, presented by Jane Muddle
Competition: A creature made from fruit or vegetable
6 November: ANNUAL GENERAL MEETING
Exhibition: Copper- or brassware
4 December: Christmas Social
Competition: a floating table decoration
Meetings are usually held on the first Wednesday of each month at 7.30pm in the Egerton Millennium Hall.
Monthly business is dealt with first, then the presentation/talk, followed by refreshments when a trading stall is held. Members are encouraged to bring anything for sale at this stall. 10% is kept for Institute funds, the rest goes to the members.
Annual subscription (which was due in January 2019): £42